Coleccion Alexandra was born from the mind of our founder and President Madam Maria Guinot. An esteemed interior designer with a rich and influential background in the world of design, Maria's goal was to create an unrivalled collection of luxury furniture, which was adaptable to meet every whim.
Setting up ateliers in 1994, with the help of her two sons Jacobo and Johnny, our family run company, has flourished into one of the world's leading design houses, famous for our handcrafted luxury collections.
The growth and success of Coleccion Alexandra can be largely attributed to the family's passion for beautiful interiors and their genuine caring approach to business.
We endeavour to ensure that this integrity is never diluted and is echoed throughout every aspect of the business; from our designs, production and customer service all the way through to the partnerships we forge.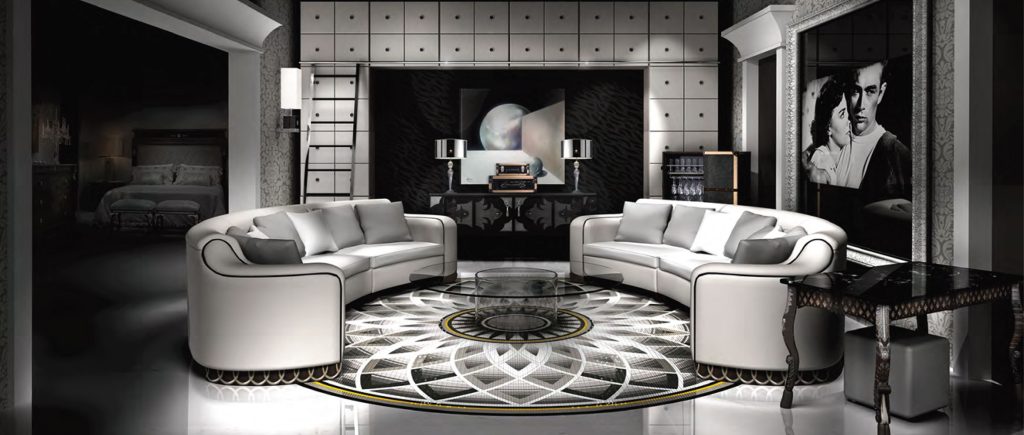 Today, our stunning collections comprise of over 2000 pieces. One of the largest collections in the world, consisting of Furniture | Bath Collections | Lighting | Textiles | Rugs & Accessories.
We strive for perfection in every detail, whilst also providing a total
design concept. From our Classical Contemporary and Contemporary creations to our Traditional Heritage collections, designers and homeowners can complete entire projects from one design house.
One order, one delivery, one installation, a totally managed solution.
Our beautiful collections have graced some of the world's most
prestigious interiors. From country estates, penthouses and palaces, to leading restaurants, corporate headquarters, aviation and super yachts.
Coleccion Alexandra has fast become a global brand and we have
now undertaken projects in over 65 countries around the world.
We have had the honour of working alongside heads of states,
oligarchs, sheikhs and an array of royals. Please peruse our past projects list for an insight into our pedigree.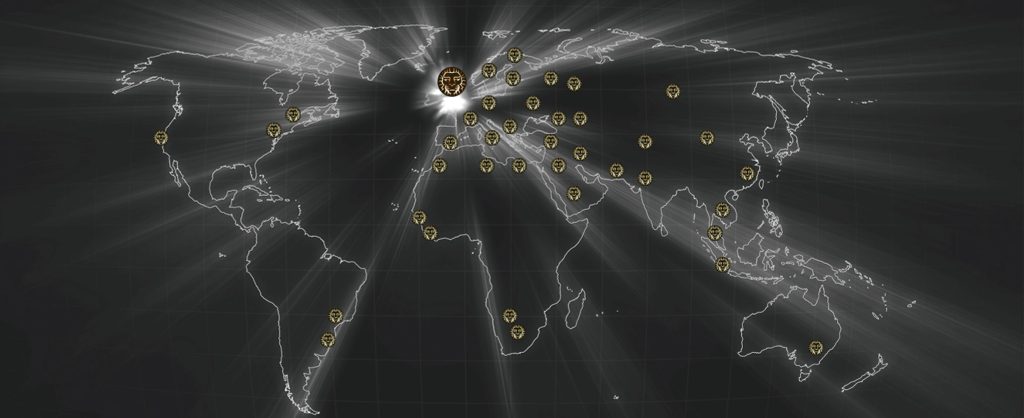 We employ some of the world's finest artisans who use ancient handcrafting techniques to achieve our product's fine and delicate details.
The skills of our craftsmen are complemented by our state of the art manufacturing facility which allows us to produce over 40 finishes for our products as well as customisable, bespoke designs
and finishes.
All of our pieces are strictly checked and revised by a quality control team throughout production and again prior to delivery. You can rest assured that every item that leaves our factory surpasses the standards set by ISO9001.
We invite all of our clients to our factory and showrooms to experience for themselves the meticulous art and the attention to
detail in our designs and production.
With over 10,000 sq/m at our disposal, we create project specific
mock room sets in an area of our factory we call 'The Alexandra Loft'. This allows us to give our clients a tangible representation of all the options available for their project.
Interior design is a visual art and this area, dedicated to experimental room sets, allows us to visually explore and understand our clients' passions and desires.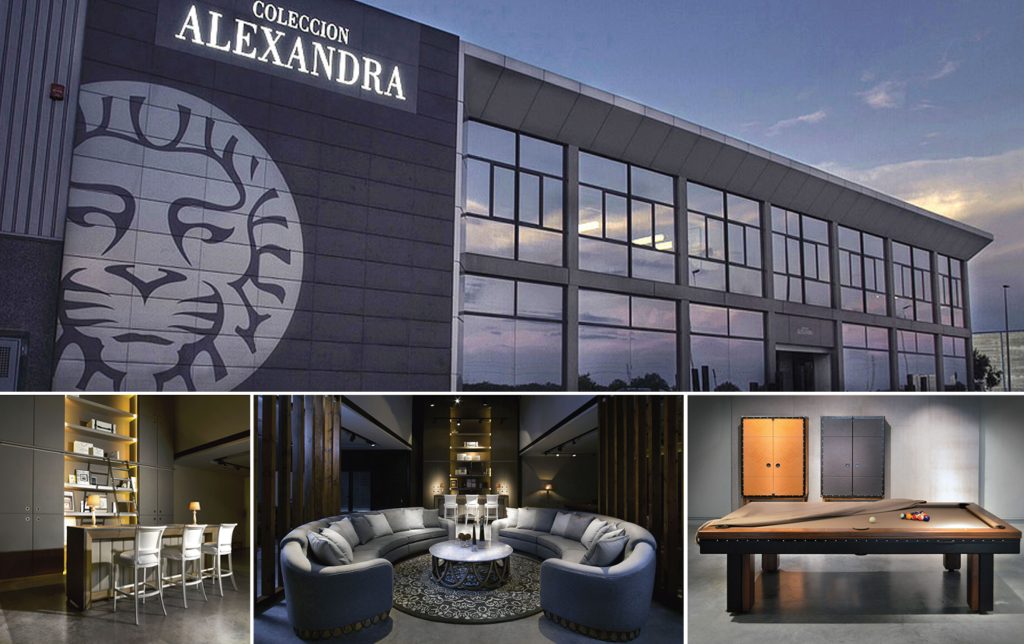 We also welcome everyone interested in our collections to meander through our magnificent Show Home. Originally conceived as an oasis from the bustling coastal metropolis of Valencia, it is a celebration of luxury interior design, set to a life-style setting.
Combining unique Moorish elements with classical Mediterranean influences, the rustic villa sits encapsulated within a cultivated garden of exotic flora and houses our collections, which best reflect the rich culture of the surrounding area.
Our Show Home is also the setting for our annual avant-garde parties.
Once a year we open our doors to heads of states, VIP's and all our international buyers and clients from around the globe for an evening garden soirée.
They are unmissable spectacles and form part of the Coleccion Alexandra experience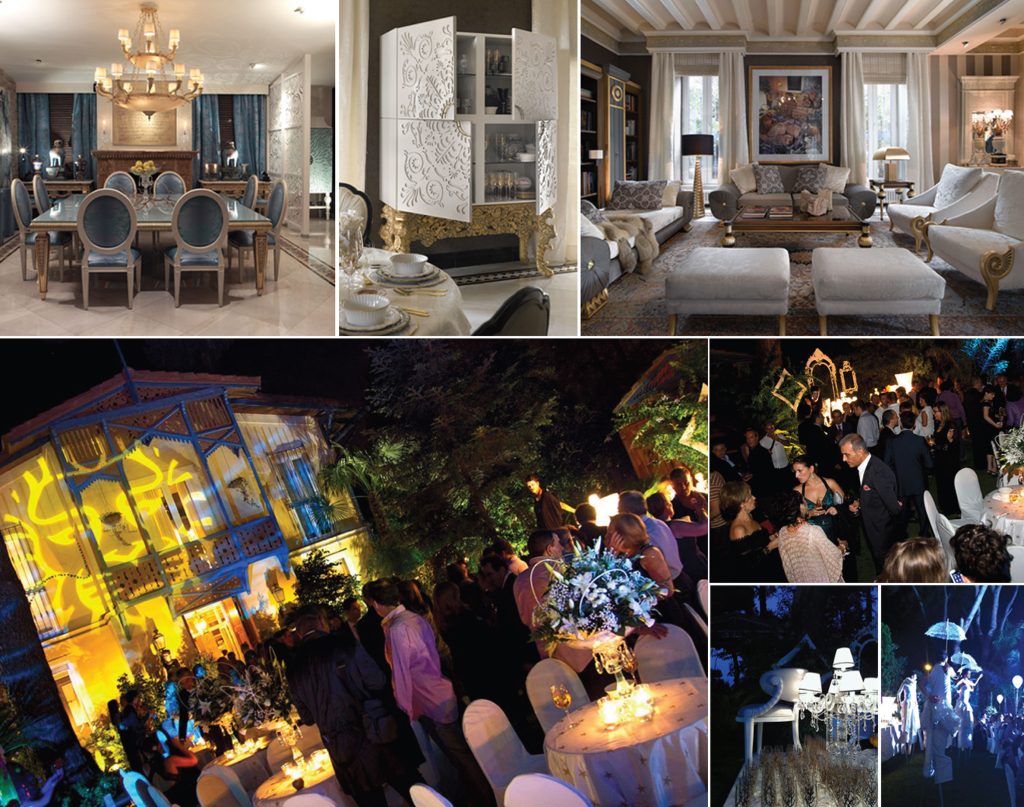 Coleccion Alexandra UK's head office was established in 2011. Bringing exclusivity to the UK, our aim is to work with leading designers and property experts and to continue to create some of the most beautiful interiors in the world.
We also actively cater for the needs of our International client base with their London & UK property requirements as well as being at the epicenter of the design world here in the UK for clients around the globe.
Our designs are refreshingly unique and have been wonderfully received by the UK. Since emerging in the UK market we have grown significantly and we've undertaken some truly exciting projects and tenders.
This growth has culminated in being awarded the prestigious project for the design and furnishing of Heathrow's Royal and VIP Suites
Welcome to our captivating showroom nestled in the heart of York, UK. Here, we invite you to embark on a journey of opulent interior inspiration like no other.
As you step into our showroom, you'll be transported into a world of luxury and design excellence. Every corner is meticulously curated to showcase the finest in interior aesthetics, from timeless classics to cutting-edge contemporary designs. Our extensive collection is a testament to our unwavering commitment to providing you with the most exquisite options for your living spaces.
What truly sets our showroom apart, however, is not just the stunning array of products but also the warm and welcoming faces of our knowledgeable staff. Our friendly team is always at your service, ready to assist and guide you through your exploration. Whether you seek advice on design choices, need insights into product details, or simply want to discuss your ideas, we are here to make your experience as enjoyable and enlightening as possible.
Every visit to our showroom is an opportunity to immerse yourself in a world of possibilities. Whether you're redesigning your home or seeking inspiration for a special project, our showroom is your haven for creativity. We understand that interior design is a deeply personal endeavor, and we are dedicated to helping you find the perfect pieces that resonate with your unique style and vision.
The ambiance of our showroom is designed to inspire and empower you. It's a place where you can touch, feel, and experience the craftsmanship of our curated selections. We believe that the tactile interaction with our products is essential in making informed design decisions, and our showroom provides you with precisely that opportunity.
In conclusion, a visit to our showroom in York, UK, is an invitation to explore the epitome of luxurious interior inspiration. Our friendly and knowledgeable team is here to ensure that your journey through our showroom is not just informative but also a delightful experience. Let us be your partners in transforming your interior dreams into reality, one carefully chosen piece at a time. Come, discover, and be inspired at our showroom, where luxury meets creativity, and every visit is a step closer to realizing your vision for a more beautiful living space.